Local Taxes
Local taxes go by many names. Some of the more common ones are Occupancy Tax, Lodging Tax, Room Tax, Sales Tax, Tourist Tax and Hotel Tax.
It is a tax that is assessed and levied by a local authority such as a city, state or country. Not every locality will have applicable local taxes, however many do.
Occupancy tax rates and rules vary by city, county, state, and country. They're generally owed on the accommodation price plus any fees for other items, like cleanings or extra guests. In some places, occupancy tax is required on a per person, per night basis. There are typically long-term stay exceptions that exempt reservations over a certain number of nights. Occupancy tax is generally paid by the guest, but the obligation to remit the taxes to the government usually falls on the host.
It is therefore important to familiarize yourself with any local taxes that may exist within your area. The best way to do this is to check your city or county government website.
Where they exist, they typically apply to rentals of 30 or fewer days, and average 12% of the rental revenue. In many instances, hosts are required to register with their local city or county. Sometimes, a business licence will also be required before collecting local taxes.
Airbnb take responsibility for collecting local taxes on behalf of hosts only in specific locations. Currently, these include France, India, Mexico, Netherlands, Portugal, Switzerland and the United States (with the exception of Delaware, Georgia, Hawaii, Indiana, Iowa, Kentucky, Massachusetts, Mississippi, Missouri, Montana, Nebraska, New Hampshire, North Dakota, Ohio, South Dakota, West Virginia and Wyoming).
The Airbnb website has detailed information on the relevant local taxes it collects for each of these locations.
For these areas, Occupancy Tax amounts will appear as a line item on your listing's public page, and you should not collect taxes separately for those jurisdictions.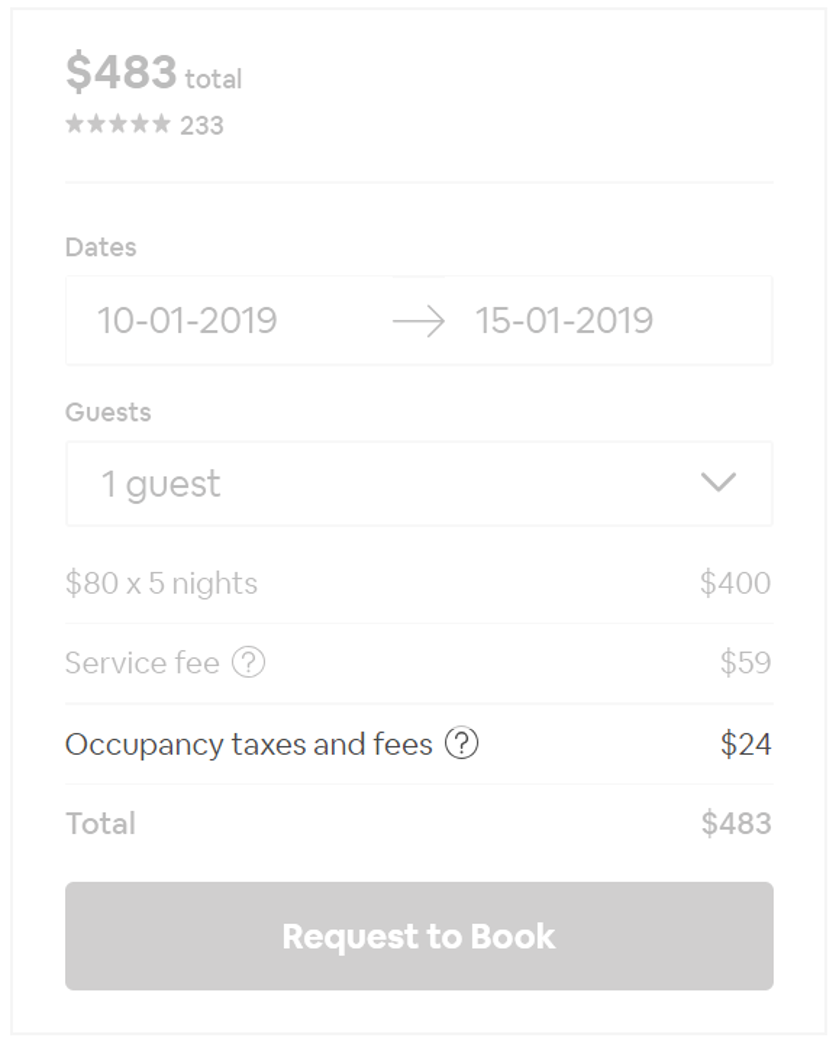 If occupancy taxes are not being collected and remitted on your behalf, Airbnb will let you know if and when an occupancy tax related feature becomes available for your listing.
For hosts required to collect their own local taxes, it is their responsibility to collect the local tax direct from guests themselves.
These taxes may be due monthly, quarterly or yearly depending on the governing area's requirements. In some instances, filing of taxes, even in the absence of rental income, may be required for reporting purposes once registered.
If you are required to collect local taxes and do not live within any of the jurisdictions in which Airbnb collect the occupancy tax on your behalf, it is your responsibility to collect these taxes from your guests.
To confirm if you listing is included in a collection area:
Login to Airbnb
Click on your listing
Click Local laws tab
If occupancy taxes are being collected and remitted on your behalf, they'll be listed on this page.
Hosts have three options for doing so, and it is at the discretion of hosts as to how they wish to collect these taxes. Their options are:
Incorporating them into their listing's nightly price
Adding it to a Special Offer
Asking guests to pay it in person upon arrival
Whilst the obligation is for the guest to pay any applicable local taxes, the onus is still on the host to remit these funds to the local taxing authority (when not collected by Airbnb on the host's behalf). Regardless of the method elected, hosts are required to inform guests of the exact amount they will be paying in local taxes prior to booking.In some circumstances, exceptions for reservations over a certain number of nights will eliminate the need to collect any relevant local taxes. You should research and familiarize yourself with any circumstances that might apply to you.