Step 3: Airbnb Calculate the Payout
Airbnb calculate the amount of your payout by adding a variety of guest charges and subtracting a variety of Airbnb fees and taxes: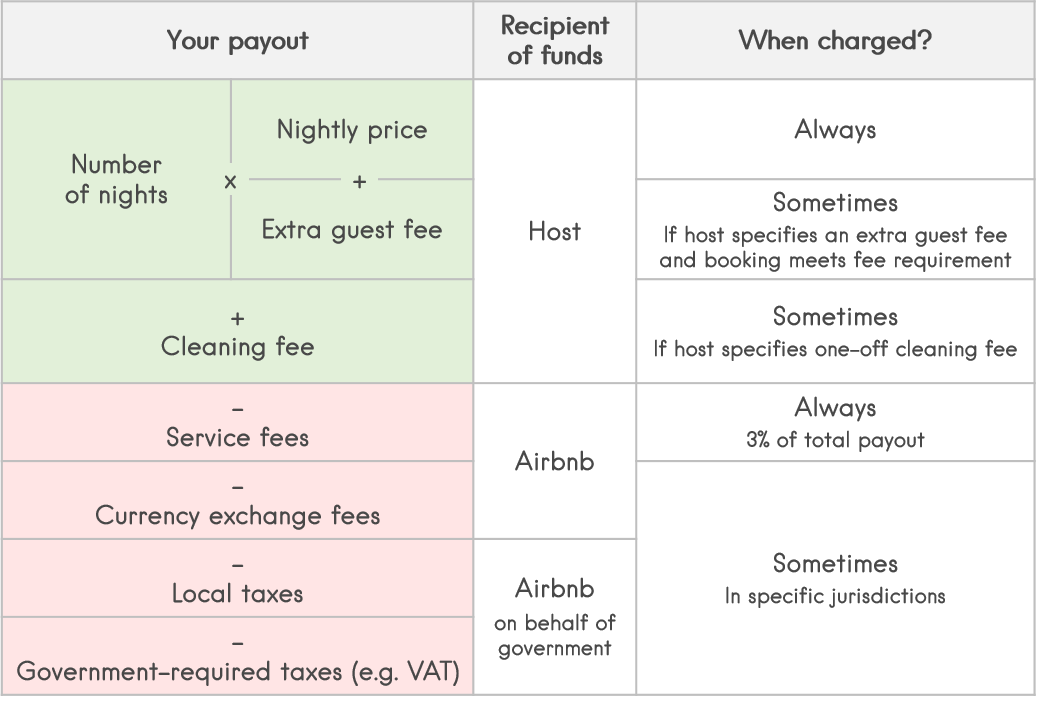 Airbnb Service Fees
There's no such thing as a free lunch, and Airbnb is no different. Airbnb make their money by taking a small fee from hosts and guests. The good news is that at 3%, the fee they take from hosts is significantly smaller than the fee they take from guests (0-20%).
There's also no annual fee for Airbnb, which differentiates it from other major home rental websites such as HomeAway, VRBO and VacationRentals.com.
The 3% fee includes the nightly rate (x number of nights) as well as the cleaning fee.

As you can see from the example above, the host's Airbnb service fee will be $12, calculated as 3% of ($100 x 3 nights) + 3% of the $100 cleaning fee.
The system only processes whole numbers and will round the fee to the nearest dollar. Airbnb's service fee is deducted from the sub-total (nightly rate x number of nights + cleaning fee) to arrive at the Total Payout.
The service fee that Airbnb will charge to hosts for an upcoming reservation will be displayed on the reservation confirmation email you receive when a guest books.
To view the service fees that Airbnb have charged you for previous reservations:
Login to Airbnb
Click on your account profile photo in the top right corner
Select Account Settings
Select Transaction History (from vertical menu on the left)
Click on the alpha-numeric reservation code from any prior reservation
Click on the reservation code
The relevant Airbnb reservation itinerary will load and display a payout breakdown inclusive of a "Service Fee" line item