Most guests on Airbnb that book have full intent on staying at the places that they book. Every now and then, guests will need to cancel for any number of unforeseen, but legitimate reasons. And occasionally, some guests will be frivolous in their booking, and do so with the assumption that they can always cancel their reservation at a later date.
Cancellation policies protect hosts in the event of unexpected guest cancellations. Each listing on Airbnb has a cancellation policy that is chosen by you – the host. These cancellation policies are the conditions under which you will or won't return money to a guest upon the guest choosing to cancel their reservation.
These various policies empower hosts to protect themselves with the level of protection they believe necessary or appropriate. The policy you decide to run with is decided entirely by you. If in doubt, hosts should err on the side of stricter cancellation policies to gain fuller protections.
Hosts are able to choose from three standardized cancellation policies:

Airbnb also provide super-strict policies offered by invitation only as well as long-term cancellation policies that apply to all reservations of 28 nights or more.
For Strict cancellation policies, guests receive a default 48-hour grace period. This means they will receive a full refund if they cancel within 48 hours of booking, as long as their check-in date is at least 14 days away. After this 48-hour window, the regular cancellation policy applies.
Guests need to agree to a host's cancellation policy when they book. A host will be able to see the number of reservations a guest has cancelled over the previous 12 months when the guest submits a request to book.
The cancellation policy you choose will not display until a guest views your Airbnb listing page – another reason you are encouraged to opt for stricter cancellation policies. The flip-side of this is that once viewed on your listing page, lenient cancellation policies do encourage more bookings.
Updating your Cancellation Policy
To view or change your cancellation policy:
Login to Airbnb
Click on your listing
Click on Booking settings from your listing's menu
Click the Edit button for the Policies section
Choose between Flexible, Moderate or Strict under Cancellation policy
Click Save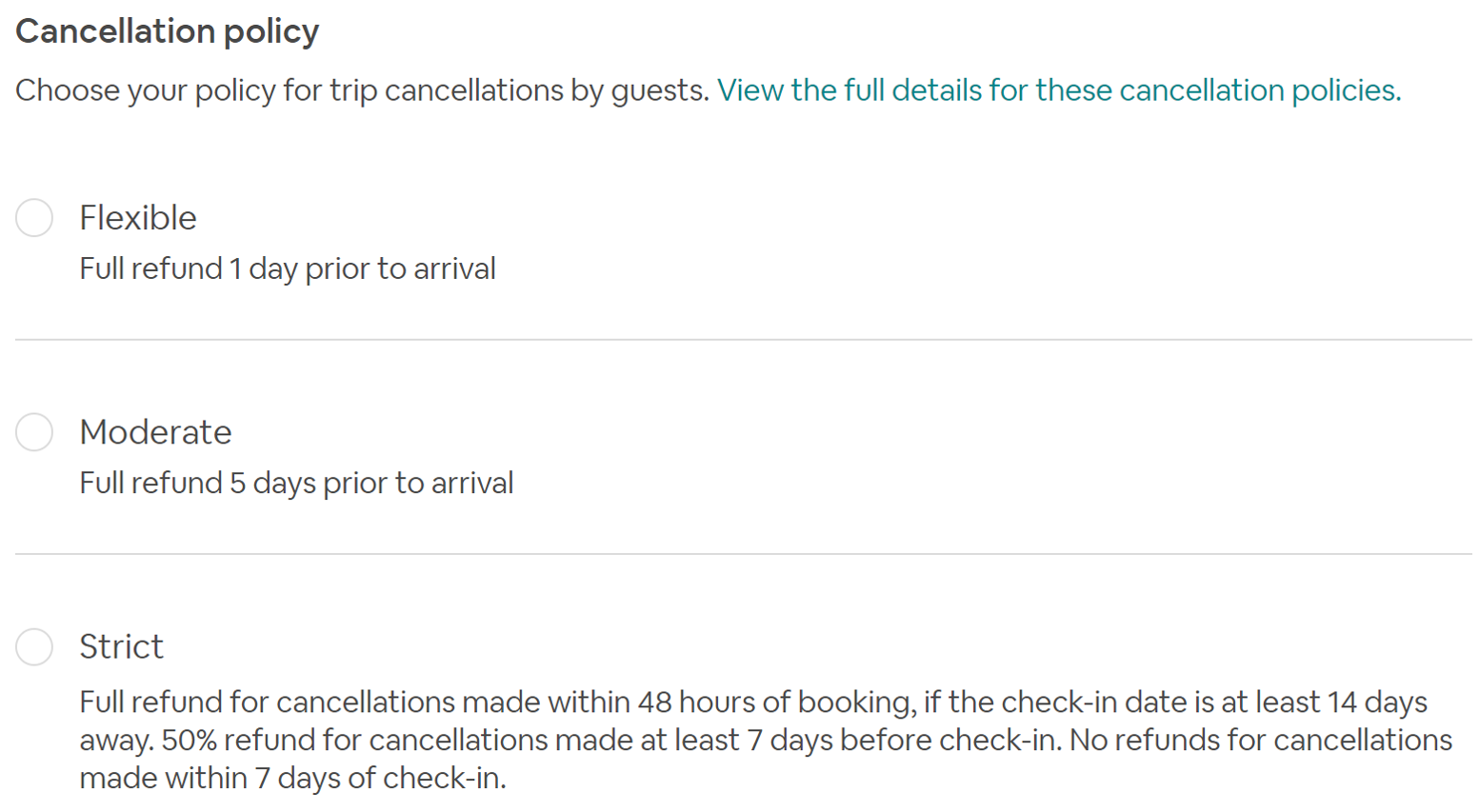 If you update your cancellation policy, it will only apply to reservations that are made after you make the changes. It will not apply to upcoming reservations that you have already accepted.
When is a Reservation Cancelled?
A reservation is officially cancelled when the guest clicks the cancellation button on the cancellation confirmation page.
If your guest cancels a reservation in his or her Airbnb account, you will be automatically notified via email: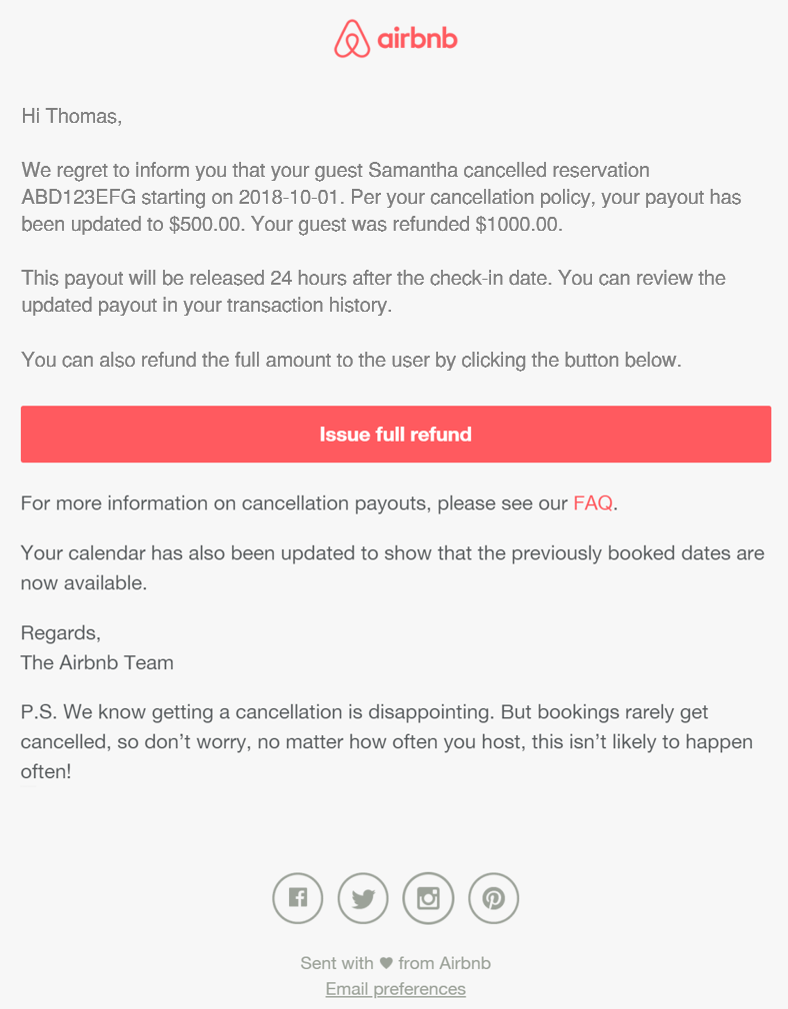 Your calendar will be automatically opened so you can again accept reservation requests from other guests for the previously-booked dates.
You can always verify the status of a reservation by logging into Airbnb and going to www.airbnb.com/my_reservations. Cancelled reservations will have their status listed as "Cancelled":

No-Shows and Cancellations After Check-In
Should your guest decide not to show up, Airbnb will uphold your cancellation policy. Your payout will be released normally – 24 hours after the originally-scheduled check-in date (as long as you've upheld your host obligations). Payouts for canceled reservations are not released early.
If pre-trip notice requirements are not met, this is what happens:

If your guest has already checked-in and wishes to cancel their reservation, they must exit your place upon submitting an official cancellation.
If the guest chooses to leave early, this is what happens:

You have until 14 days after the original check-out date or before a new guest checks in (whichever happens first) to make any security deposit claims.
Long-Term Bookings and Cancellations
If the guest makes a long term reservation and decides to cancel the reservation before the start date, the first month of the reservation is paid to the host in full and not refunded to the guest.
If the guest books a reservation and decides to cancel remaining days of the reservation midway throughout their stay, the guest must use the booking alteration tool in order to agree to a new checkout date with their host.
Regardless of the checkout date chosen, the guest is required to pay the host for the 30 days following the cancellation date, or up to the end date of the guest's original reservation if the remaining portion of the original reservation is less than 30 days.
Fee Refunds
Cleaning fees are always refunded if the guest did not check in. Service fees will be refunded through an adjustment to the final reservation total you're paid after the refund. Applicable taxes will also be retained and remitted by Airbnb.
You can always verify payouts of fee refunds by logging into Airbnb and going to your Transaction History. The updated amount you are to be paid (post-cancellation) will be stated.
Note that there will be no mention of the cancellation within your transaction history – only the updated amount that Airbnb will pay, or has paid to you, in the form of a fee refund (as per your cancellation policy).