Step 1: Researching Your Local Competition
Truly successful Airbnb hosts possess a thorough understanding of their local competition and the prices they're able to command on Airbnb. These hosts are aware of supply and demand in their local area at different times of the year. They then take advantage of this knowledge to maximize their earning potential.
The default nightly price tip provided to you by Airbnb upon listing your place was calculated using a limited number of factors. Factors considered include things like your location, the number of bedrooms and bathrooms, the type of property you have, what amenities you're offering guests within your space and the number of guests it accommodates.
Whilst criteria like these may seem like they cover a broad range of variables able to pigeonhole you with other comparable listings, this is unfortunately only partially true.
Think about what all the 3 bedroom, 2 bathroom apartments look like in your city: You'll have luxury apartments, run-down apartments, flashy new apartments in run-down areas, and shabby old apartments in glamorous neighborhoods. There are natural limits on Airbnb's ability to find listings that are truly comparable to yours, without knowing more about your place. No two listings are exactly the same despite commonalities that may exist between them.
Your goal in researching the local competition is to better understand comparable listings in your local area to determine the optimal amount you're able to charge for your place.
Very shortly you'll be able to answer the question: What is my place worth at different times of the year? Getting this even slightly wrong can represent the do-or-die difference between success and failure on Airbnb – especially for new hosts.
To begin, draw a simple monthly table like the one below (or click here to download it):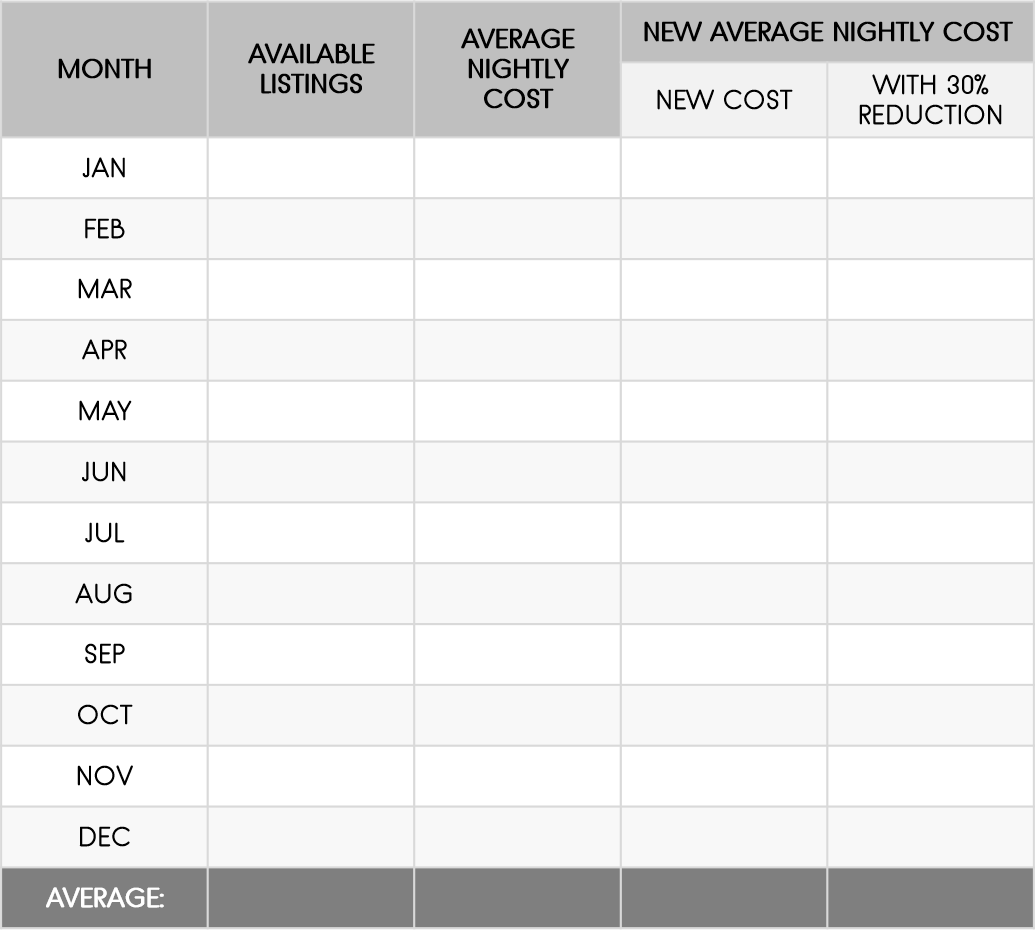 The next thing you'll want to do is step into the shoes of a guest that's looking to find a place on Airbnb just like yours.
To do so, hop onto Airbnb and do a search as if you were a guest trying to find a place in your neighborhood. Be as specific as possible when entering the location (for example, enter "Gramercy Park, New York" instead of just "New York").
For the dates, select check-in as the 15th January and check-out the 16th January (i.e. the middle of the month).
Once Airbnb display your search results, work through the different search filters presented to you (above the listing thumbnails and below the search bar at the top).
Select all the filters that are applicable to your listing. For example, if you're going to Airbnb your entire three bedroom, two bathroom apartment, then select "Entire Home" for Room Type and "3+ Bedrooms" and "2+ Bathrooms" for Rooms and beds:

Also select any amenities, facilities or other relevant filters that help categorize your listing with other like-for-like listings.
From the results that Airbnb now present you with, there are two critical pieces of information you'll be interested in:
Average Nightly Price
Clicking on the Price filter will reveal the average nightly price. In the example below, this is $508.
However we can also see that this figure includes 'outlier' listings on the expensive (right) end of the displayed price range graph. These expensive outlier listings are significantly more expensive than all the other listings to their left.
We'll want to exclude outlier listings, both expensive and cheap, since they disproportionately skew the average nightly price of the neighborhood.
To do so, move the minimum price circle (on the left) to the lower end of the price range graph to exclude the cheaper outliers, and move the maximum price circle (on the right) to the upper end of the price range graph to exclude the expensive outliers:

The average nightly cost is calculated as:
( New minimum price + New maximum price ) ÷ 2
In the example above, the new minimum price is $227 and the new maximum price is $899. Therefore, the new average nightly cost is calculated as: ($227 + $899) ÷ 2 = $563.
Number of Available Listings
At the very bottom of the search results page Airbnb will tell you how many listings match your search with the filters that you specified.
In our example, Airbnb tell us that the number of available listings is 109 rentals.
What do we learn from these two pieces of information? That in your local neighborhood, in the middle of January, there are 109 comparable listings to yours, and the average nightly cost for those listings is $563.
You can now populate the first two columns in the first row (i.e. for January) of your research table with those figures (ignore the last two columns for now):

You'll need to do this 12 times – once for each month of the year. This way, you make sure that the prices you determine account for variation across different months. This can have a big impact for locations that have wide seasonal travel fluctuations throughout the year.
To do this, simply update the dates of your search on Airbnb to the 15th of each month, and repeat for the months of February to December, repeating exactly what you have just done for January: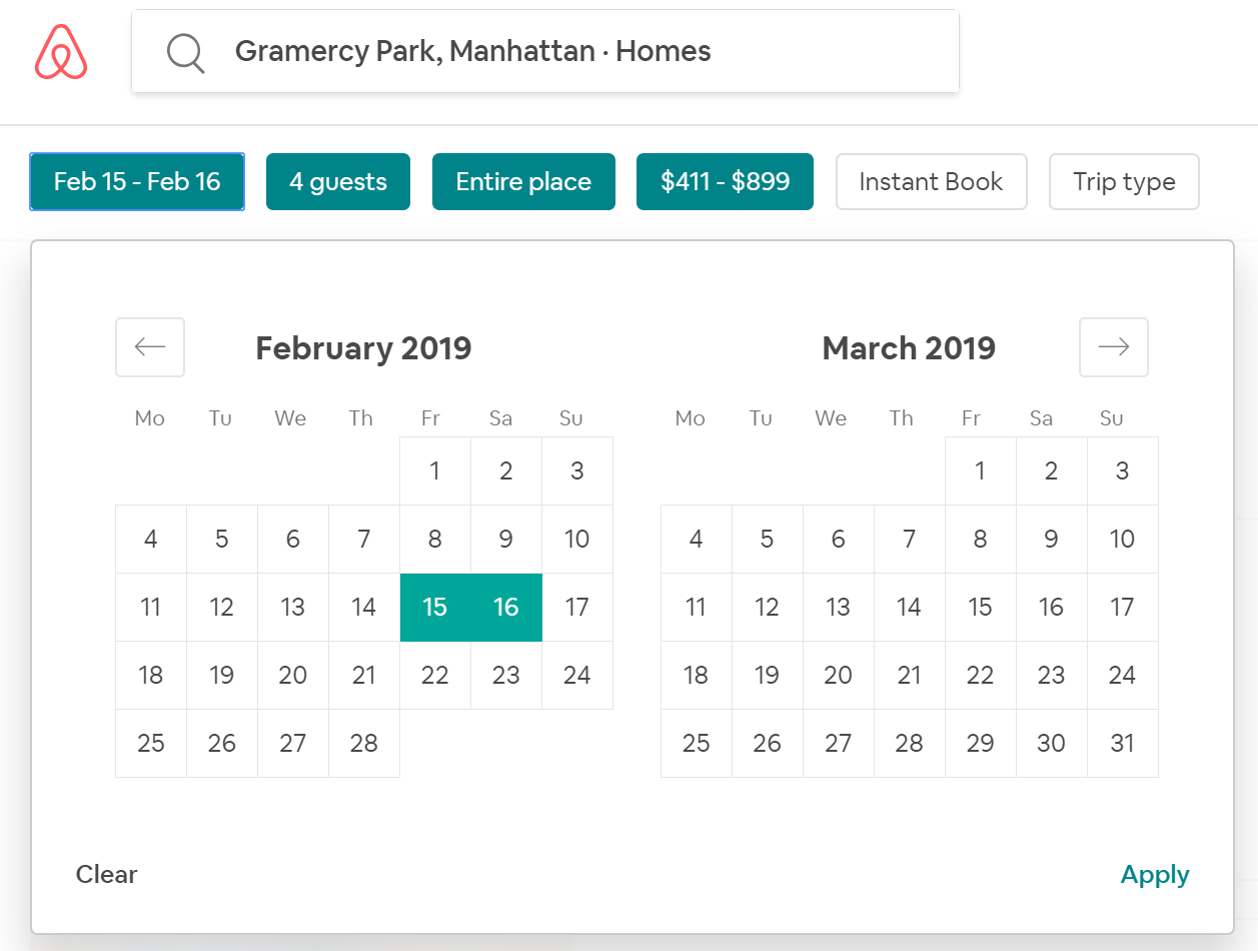 Once you've repeated this 11 more times, you should have a table with the first 2 columns complete. It should look something like this: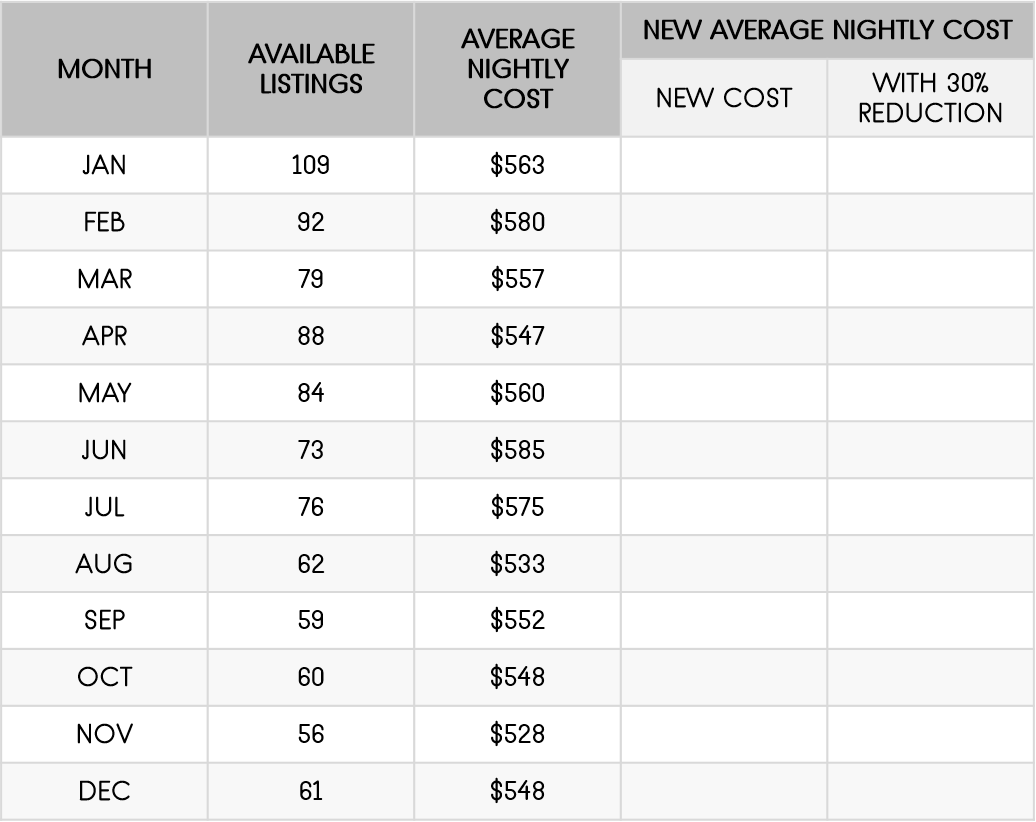 It's now time to work out the average (bottom row). To do so, add the figures for each month and then divide by 12:

Your next goal is to move away from just understanding your competition to determining your optimal nightly price for each month of the year.
To do this, you'll need to make pricing adjustments that reflect supply and demand of available listings at different times of the year.
More available listings means more guest options, and you should therefore charge less (since supply is greater than demand). Fewer available listings means there are less guest options, and you can therefore charge more (since demand is greater than supply).
The following is a good framework for making these manual adjustments:
Using our example, the adjustments are going to look like this: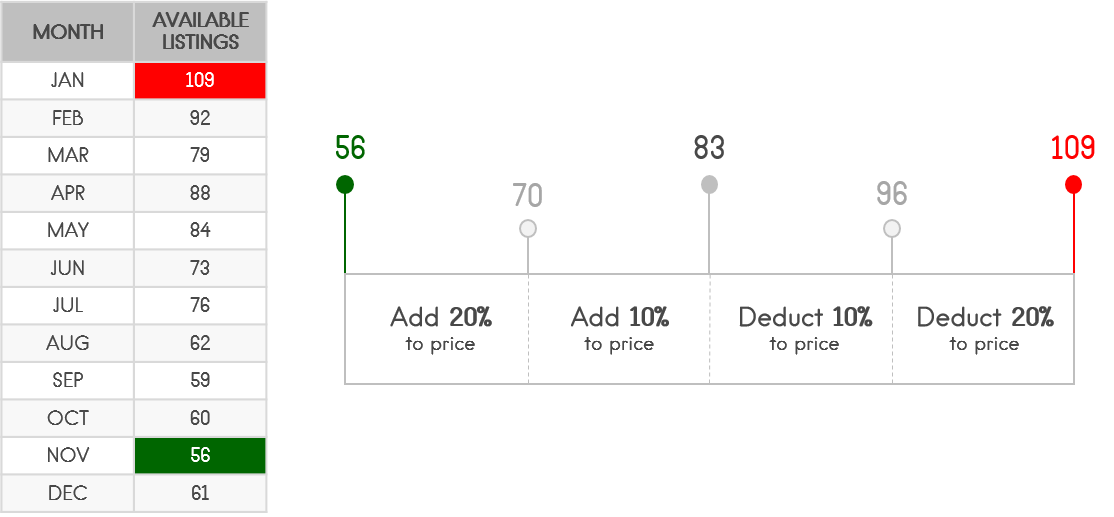 With this, you're now able to populate the New Cost column of your table. Using, our example, it'll look like this: