2. Place Type
Airbnb will then ask you to provide a bit more information on what kind of place you are listing.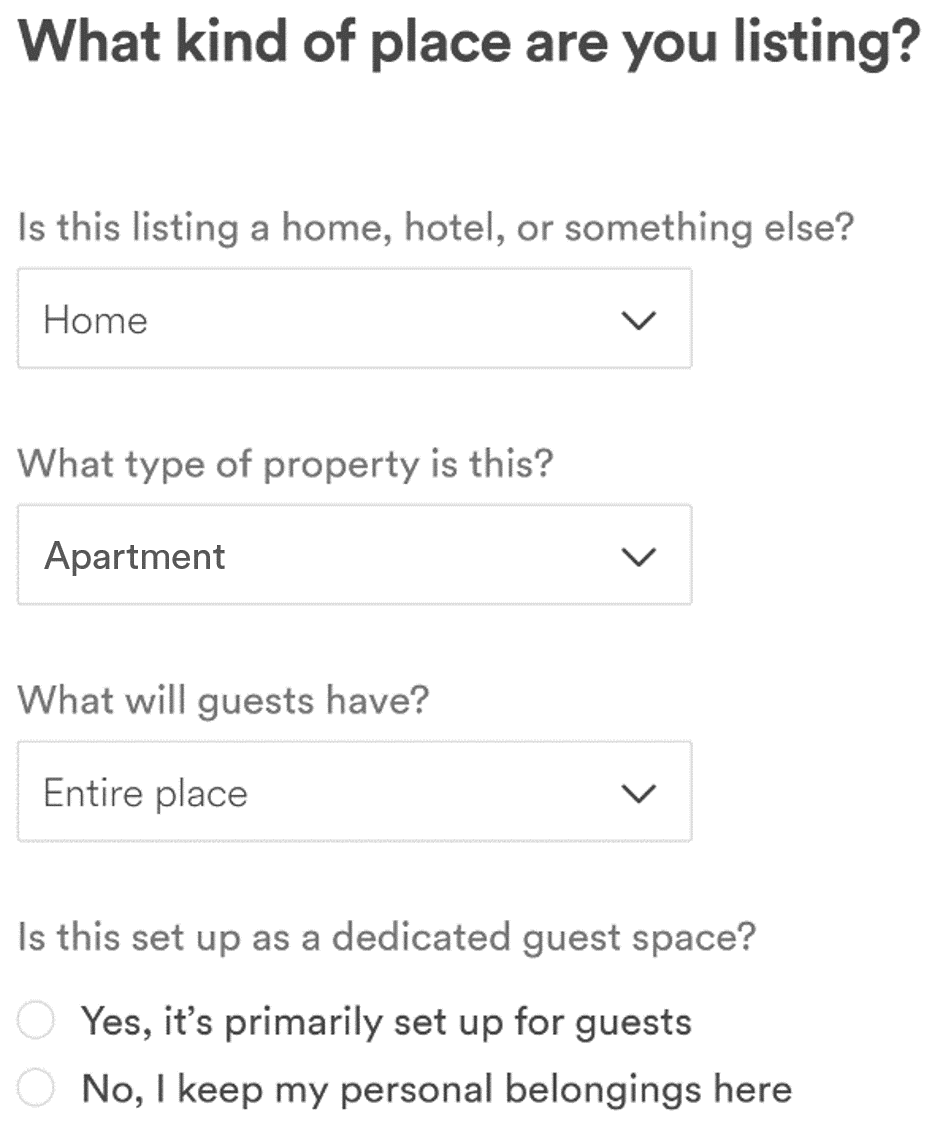 For your typical host, this is most commonly an apartment or house.
Other options you may select include secondary units, unique homes, bed and breakfasts or boutique hotels.
Once selected, you then specify the exact property type you will be hosting. This includes things like condominiums, lofts, serviced apartments, bungalows, cabins, cottages, townhouses and villas.
It even includes options as wacky and obscure as castles, lighthouses and treehouses.
Below is a list of common property types and a description of what they are:
Apartments: Typically located in multi-unit residential buildings or complexes where other people live.
Bed and Breakfasts: Professional hospitality businesses that offer breakfast for guests. A host usually lives on the property.
Bungalows: Houses with architectural features like a wide front porch and a sloping roof. They're usually single-level homes.
Cabins: Houses built with natural materials like logs and wood. They're often located in natural settings like forests and mountains.
Condos: Units typically located in multi-unit residential buildings or complexes where other people live. Condos are owned by individuals whereas apartments are usually owned by a property management group.
Guesthouses: A detached building that shares a property with another stand-alone structure like a house. Sometimes these are called carriage houses or coach houses.
Guest Suites: Have a private entrance and are inside of or attached to a larger structure like a house or garage. These are sometimes called in-laws.
Houses: Residential buildings that are often stand-alone structures. Some houses, like duplexes, may share walls or outdoor areas with other houses.
Lofts: A space - usually an apartment or condo - with an open layout. Most or all walls in a loft do not extend fully to the ceiling.
Townhouses:Private units that share walls and may share outdoor spaces with other units.
Depending on your selections, you will be prompted with a couple of other questions. If you selected apartment or house, you will be asked to reconfirm whether guests will have the entire place, a private room, or a shared room. If you selected bed and breakfast or hotel, you will be asked to confirm whether guests will have a private or shared room, as well as the total number of rooms your property has.
Guests like to know if they'll see personal things, like pictures or clothes, when they're staying in your place. You therefore also tell Airbnb whether it's setup as a dedicated space for guests or whether you keep your personal belongings there too.