Gain Additional Income
You're probably thinking… that's great for Airbnb, but what's in it for me? Well, if you're like the majority of other Airbnb hosts, then the primary motivation for listing your home on Airbnb is to gain an additional and lucrative source of income.
Airbnb hosts now receive an average of $174 per guest arrival, representing an 11% increase from 2016. An Airbnb host renting out a full two bedroom apartment or house in a major US city can expect to earn an average annual profit of $20,619. And your typical U.S. Airbnb host (across all property types and rental offerings) makes an average of $7,300 each year.
U.S. Airbnb hosts make more than 2.5x the average incomes of Uber drivers, and far surpass the incomes of other sharing economy service providers on other platforms too (e.g. 6x the average incomes of Etsy service providers and 9x the average incomes of Fiverr service providers).
So how do Airbnb hosts from all around the world use this supplementary income?
53% say it has helped them stay in their home
48% say it is used to pay for regular household expenses (like rent or groceries)
6% say it has been used to start a new business
And here are some of the ways that hosts in 10 big cities all around the world use their Airbnb earnings…
Amsterdam: 30% say the money they earned using Airbnb has helped them launch a new business or pursue a new project
Barcelona: 53% say it has helped them stay in their homes
Berlin: Hosts spend 48% of their Airbnb income on essential living expenses, such as rent or mortgage payments
London: 63% say their Airbnb income has helped pay bills they would otherwise struggle to pay
Los Angeles: 33% say they have avoided eviction or foreclosure by hosting their homes on Airbnb
New Orleans: 71% say their Airbnb income was used for typical household expenses like rent/mortgage, bills and savings
New York: 62% say their Airbnb income has helped them stay in their homes
San Francisco: 42% use their Airbnb income to pay for regular living expenses
Sydney: 60% say that their Airbnb income has helped with monthly rent and mortgage costs
Toronto: Hosts spent 39% of their Airbnb income towards paying monthly mortgage and rent payments
How much do hosts in places like these make? How many guests are visiting their countries looking for a place to stay? And how frequently are hosts renting out their homes? Here are some numbers and figures to help you gain perspective on the opportunity for you…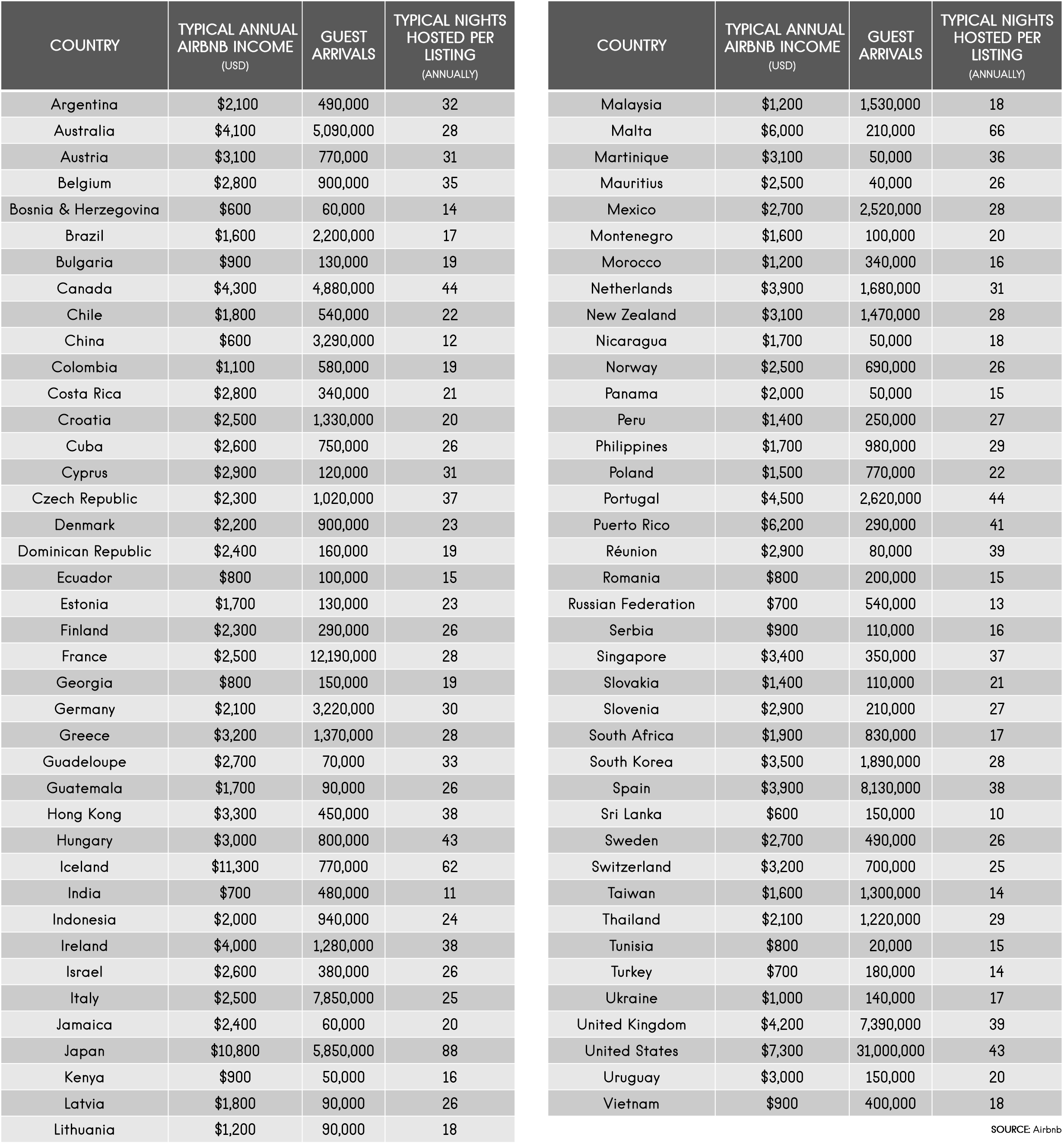 These figures tell only part of the story. Hosts often want to compare the money they could be making on Airbnb against their current financial obligations, like rent or a mortgage. On average, a typical Airbnb host in a major US city is able to pay 81% of their rent just by listing one room in their two bedroom home on Airbnb. What about renting out their entire place? Below is a profitability comparison for 50 U.S. cities...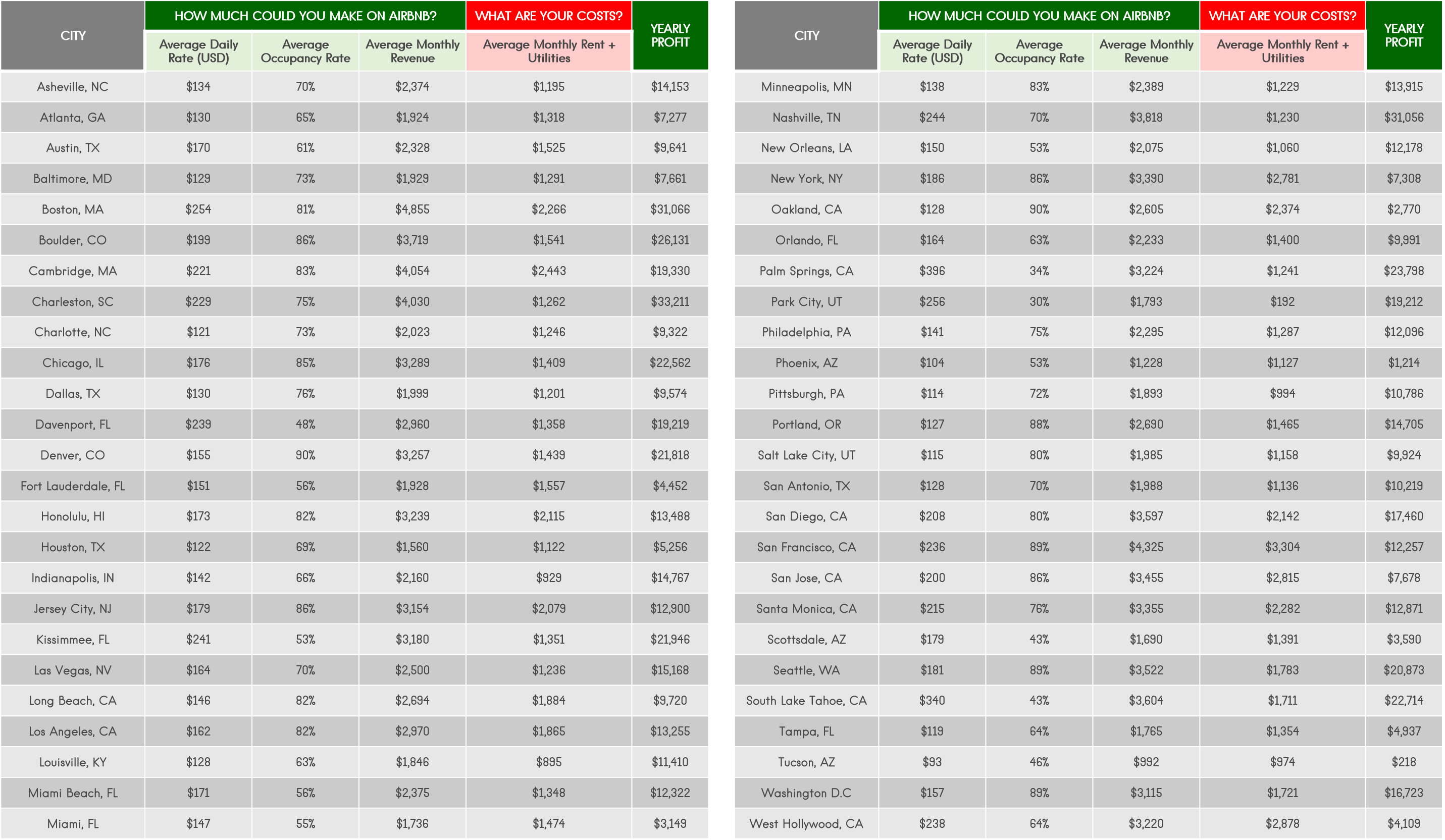 SOURCES: Airdna, Apartment List, RENTCafe
There's an entire section dedicated to pricing your place on Airbnb, which will provide you with detailed insights into how much you personally stand to make by placing your home on Airbnb. But if Airbnb is something you're considering with any degree of seriousness, it'll be worthwhile doing some 'back-of-the-envelope' calculations of your probable costs, likely revenue and potential profitability.
When it comes to costs, think about the 'hosting essentials' you'll need to stock and furnish your place with. Some of these will be one-off costs associated with starting up your Airbnb, such as...
Bed linen
Cooking utensils
Dinnerware
Electrical equipment
Furniture
Others will be recurring costs such as...
Cleanings
Home supplies
Rent
Toiletries
Utilities
And when it comes to your profitability, don't just think about how much you'll be charging for each night, but also...
How many nights do you anticipate your place will likely be occupied?
Will you have a weekend (vs. weekday) rate?
Will you offer a weekly or monthly discount?
Do you plan on charging a cleaning fee?
All of these things will influence how much you stand to make and may also vary at different times of the year or by season too.